After watching a few episodes of "The Great British Sewing Bee" generously recorded by a colleague in London, I decided to join Pattern Review's version of it.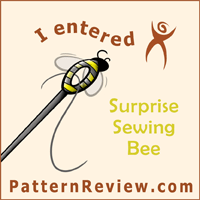 To challenge myself a bit more, I've decided I will use my new machine which I'm not very familiar with.
I am confident I'll have the supplies needed (I could probably supply ALL the participants and not even notice anything was gone.)
I have to admit, I'm mainly interested in the Eilliot Berman gift certificate. Not because the other prizes aren't awesome (they really are), but I now have more machines that I need (I had move my backup overlock off the counter to make room for the Babylock). Okay, NEED may be too strong a work--I already had more than I need. I just bought the Reliable Sensor iron, and LOVE it. It steams like crazy when you pick it up and stops as soon as you put it down and has an auto-off override. Yep, no more shaking your iron to turn it back on since that auto-off feature seams to be timed perfectly to shut off right before you need your iron again. Seriously, did some evil designer do a test?: sew a seam, press open, pin to next garment piece, sew seam, return to iron: yep, the iron just turned off--that's the exact right timing.
Anyway, good luck to everyone who enters!
Juliette